Worship Praise and Divine Healing (KPPI) once again take place at the meeting of Advent, Jl. MT Haryono Kav 4-5, Tebet, Pancoran, South Jakarta, on Thursday, September 14th, 2017.
God so loved the people. Through the meetings continue to be held every month since 1993, continues to proclaim the greatness of God's love and power. Word about the redemptive power of Christ on the cross is always reported. Faith in attendance raised to believe fully in Jesus. Miracle after miracle continues. It was obvious that God is alive.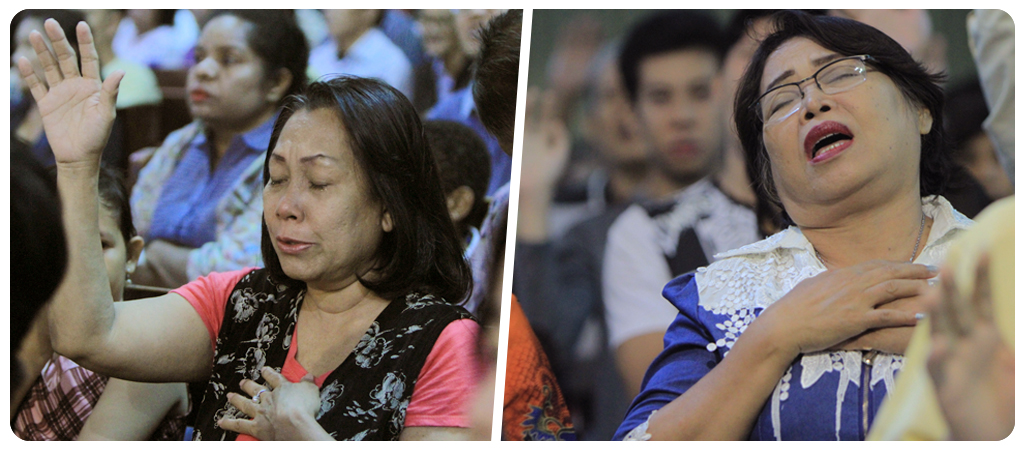 God's people from various towns Jabodetabek have traveled that are not easy to reach the service building. They come with various problems and sickness. They expect to receive a miracle of God. Most of them come directly from the hospital.
At the beginning of the service the congregation came joyfully sing praises to the Lord led Pdt. Phillipus Suwandi Kusuma.
The Miracle Really Real
Healing testimonies aired a movie about a little girl, Felicia, who suffered paralysis since childhood because there are abnormalities in the brain and cause impaired growth. His mother got an invitation KPPI Felicia currently hospitalized and came servant of the Lord praying for him. The mother without despair always bring Felicia to KPPI since the year 2013 at the age of 6 months in the hope of God to heal him. God answered her prayer. In May 2017 her son began to walk and increasingly normal and strong. God has healed. Thank God.
Pdt. Lidya Emy Trimahanani then invite the entire congregation read aloud the verse Mark 11:24 (TB) "Therefore I tell you, whatever you ask for in prayer, believe that you receive them, then it shall be given unto you."
Back aired a movie. Sermon begins with footage from previous KPPI. The Word of God from John 5: 1-9 (TB) on a paralyzed for 38 years kept waiting with faithful on the edge of the pool of Bethesda forward miracle healing. Jesus came to him and healed him.
Paralyzed for 38 years is not a short time. This condition can make the heart impatient and desperate. But he remains on the edge of the pond. Why did Jesus specifically came to this one man? Because God is to know these people hope sincerely and never blame anyone. God came specially to those who wait and heal decades. While there are so many sick people there. Trust in the Lord with all your heart and He will act. He is more real than the air we breathe, even from the wind blowing. God is real, believe in Him.
Followed by a testimony of healing experienced by a teenage boy named Ferdinand. For 6 years telling buzzing right, swollen and very sore, and make it less able to hear. He is present in KPPI and prayed. God touched and healed.
At Home Father 'There Are Many Places
Pdt. Michico Serafim advanced preach the Word of God. Taken from John 14: 1-3 (TB) "Let not your heart be troubled; trust in God, believe also unto Me.On my Father's house are many mansions. If not so, would I have told you. I go to prepare a place for you. And if I go and prepare a place for you, I will come again and receive you to Myself; that where I am, there you may be also. "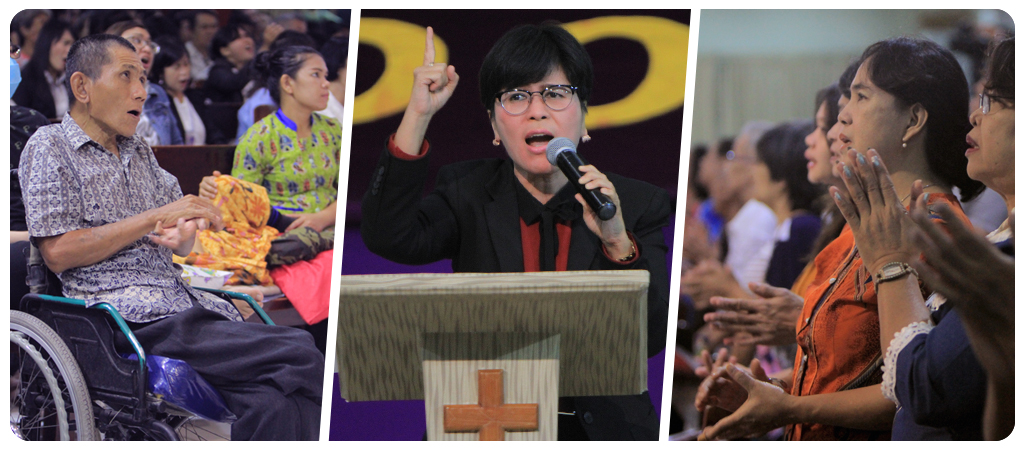 Delivered him not become restless and anxious. Man, young and old, even though children are often overwhelmed with fear, worry, and anxiety. A small child worry whether the next grade, a student also uneasy about the future, as well as traders worry about whether the business successfully. Many anxiety and worry which makes it difficult to give thanks. We may be able to register all the anxieties and will appear the same thing, that all of a concern for life on earth: the food problem, the problem of employment or future problems.
But God told him not anxious because in my Father's house are many dwelling places. This is can answer all our problems list. All small real problem for God.
Continued read Matthew 6: 25-33 (TB). Whatever our needs list that often interfere and make us anxious, indeed your heavenly Father knows all that. Father in heaven guarantees can help us in all of our problems. But the main thing is what if we leave this earth.
Jesus has said that in the Father's house are many mansions. For that He went to prepare a place for us, and from there he will come back to take us to his place.
Each of us is very loved by God. He did not want to lose one of us. For that he made sure that every person has eternal life together with the Father in heaven. It's to do with them giving His life for us all. So do we ever think that God does not pay attention to us and love us. That is not true. Believe hand of God that has brought and collected us. There's the hand of God that heals us. But not only heals us. There are more critically important, which is eternal life.
If kitta think God does not care about us and loves us, so that we feel abandoned, know that God loves us. Trust in God. In the Father's house there are many places for us. Who are we, so we highly anticipated God. The good news is that each of our very loved by God.
Soon Jesus will come. Will we stay with him. Believe and receive Him into our live He will together with us.
Romans 8:32 (TB) He that spared not his own Son, but delivered him up for us all, how could he not give us all things together with him? Eternal life, his life given to us. Moreover, all the problems that we have registered. It was all just a small problem. Trust in God. That eternal life is more important than all the problems of our lives.
Then delivered a challenge to accept Jesus into their personal Savior. Many have raised their hands and were invited to stand. They were asked to follow the prayer receive the Lord Jesus as personal Savior.
Coming To Jesus Humility and Faith
God's Word read by Pdt. Joseph Maruli Batubara, taken from Mark 1: 40-42 (TB) "A leper came to Jesus and kneeling down before him he begged his help, he said:" If you are willing, You can make me clean. "Then moved with heart- His compassion, and he stretched out his hand and touched him and said to him: "I am willing, be cleansed." Immediately the leprosy diseases left him, and he was clean. "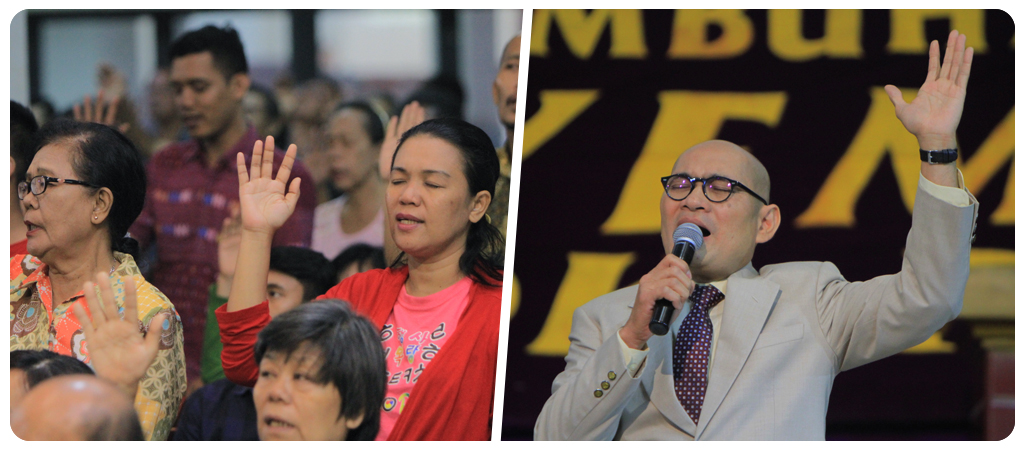 Lepers had heard about Jesus healing the sick. That's why he is hopeful to Jesus. He came to believe in completely and do not hesitate. She also comes with full humility and supplication.
Presented also may be many who have long come to KPPI and have not healed well. Do not become weaker and less hope. Instead let more confidence, more hope and strengthen faith. Maintained faith in loyalty moved Jesus came. If not cured, it should be more believers. Do not become discouraged in our faith journey. Our turn will surely come. If others helped then we would also have been healed.
After word of God delivered, sick assembly were invited forward to be prayed for. Previously all counselors and ministers asked to forward first. Healing prayer led by Pdt. Joseph Maruli Batubara, Pdt. Hisar Manurung (HKBP Cikini) and also Pdt. Alfred Judah Pakasi.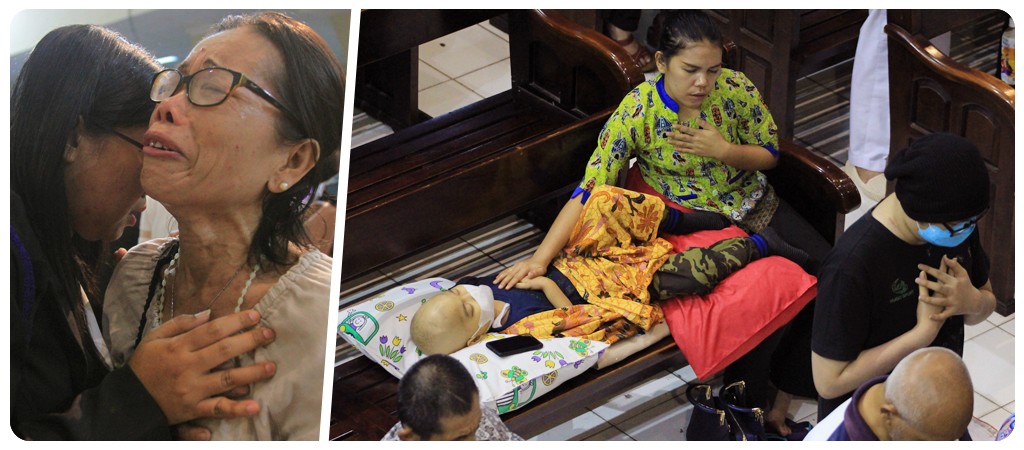 Only then all counselors approached the sick and pray for each one. God answers prayer and faith of His children. Various miracles of healing happened.
Their testimonies were cured presented by Pdt. Irma Indiah Dwi, Pdp. Deni Septano and Ev. Maria Fitriani.A number of miraculous healings occur, some of which are cured of eyes blurred from the virus, stroke and uric acid that cause could not walk for two years, the ear can not hear, heart disease, pain liming on both legs, pain in the body until the knee for 3 day, for 3 months of acute rheumatism, pain in the spine due to fall from the tree since childhood, pain on the right and left thigh muscle, which causes tumor sick too crowded and spine tingling for 3 years. God has declared His greatness. Thank God.
Next Pdt. Maruli Sinambela convey a challenge for anyone who longs to serve God gave himself a servant of God. Those who raise a hand forward to be prayed requested.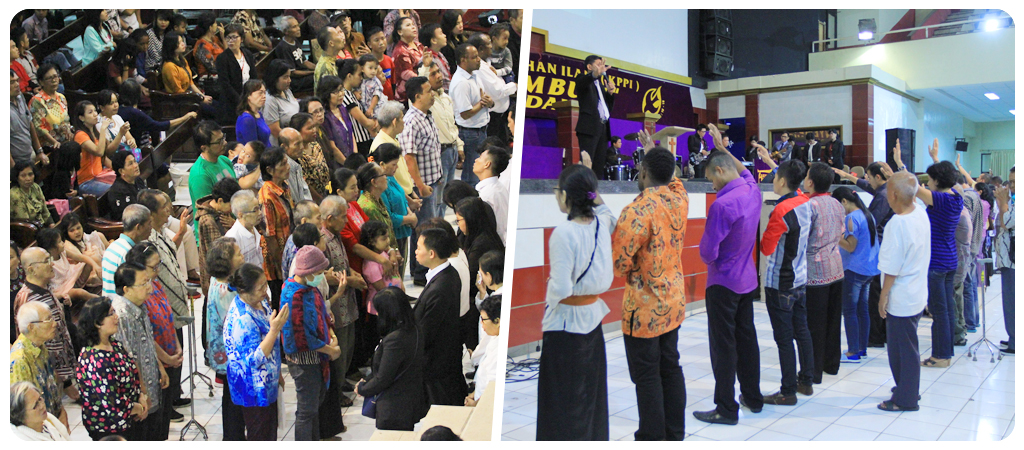 KPPI worship was closed with the message that those who attend can go back to church each and diligently serve God there.
An outstanding evening. All rejoice at work. Bless God.